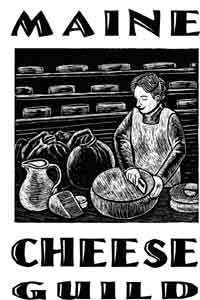 As the hardwood foliage bursts in a blaze of colors on Columbus Day weekend, take in the spectacular sights and to taste some award winning cheese during the Maine Cheese Guild's annual Open Creamery Day. Visit many of Maine's cheese makers in their creameries, meet the animals, and learn the stories behind Maine's more than 150 artisan cheeses. Along the way you can also visit a farmers' market, stop at an orchard, explore one of Maine's premier breweries or winemakers, pick fruit at Maine's legendary orchards, and drop-in on one of the many artisan bread makers our state has to offer. You'll love the views, and the taste of Maine cheese, straight from the source, will be the best memory of all!
In addition, you might want to also take a look at the Maine wineries, breweries, orchards, and/or other farms that will be open to visitors all over the state that weekend so that you can explore all the great food available in Maine at the same time that you visit and support your local Maine cheese maker.
Please stay tuned: all details, including an updated list of participants complete with a map of locations, will be posted below:

Map of Participants:

View Maine Open Creamery Day in a larger map
List of Participating Cheesemakers:
Appleton Creamery
Caitlin Hunter, Owner
780 Gurney Town Road
Appleton, ME 04862
www.appletoncreamery.com
Visit the goats and sample the award-winning cheese at Appleton Creamery in Appleton. Cheese is handcrafted daily using traditional methods from the milk from our herd of Alpine goats and nearby EllsFarm sheep dairy.
Balfour Farm
461 Webb Rd
Pittsfield, ME 04967
(207)213-3159
www.balfourfarmdairy.com
Balfour Farm is a new member of the Maine Cheese Guild in 2011. We are a MOFGA certified dairy farm. Our Normande and Jersey herd produces award winning quality milk that is bottled right on the farm (non-homogenized, not pasteurized). In 2011 we began offering fresh cheeses, Quark, butter and buttermilk, as well as greek style yogurt, traditional yogurt and drinkable yogurts featuring Maine blueberries. As a small family farm, we also produce fresh eggs and apples, straight from the orchard.
Flying Goat Farm
Cara Sammons & Devin Shepard
413 Mann Road
Acton, ME 04001
207-636-7321
207 776 1846
flyinggoatfarmmaine.com
facebook.com/flyinggoatfarm
Flying Goat Farm produces small hand-crafted batches of fresh chevre in several varieties, as well as feta. We are also known to occasionally make goats' milk yogurt, and sweet chevres for special occasions. We strive to manage our small herd of (spoiled) Nubian dairy goats with a primarily natural and holistic approach and it is important to us to know each animal as an individual. Simply put, we believe that tasty cheese comes from happy and healthy animals!
Garden Side Dairy @ Hatch Knoll Farm
Kim Roos
29 Hatch Knoll Rd
Jonesboro, ME 04648
kimroos@tds.net
www.hatchknollfarm.com
Goat milk chevre, feta, ricotta, camembert and APRIL MOON-a semi hard cheese. We are a small goat dairy offering goat milk, goat meat, yogurt and a variety of cheeses. Our animals enjoy access to 200 acres and our cheese is made fresh daily.
Harmony Mill Farm (Note * hours 12 noon – 4 p.m.)
133 Fitchburg Rd.
Waltham, ME 04605
207-584-2035
harmill@mymailstation.com
Come see our new calf and try our new Provolone and smoked ricotta salata cheese along with old favorites Jersey Gold Cheddar and Ricotta Salata. We have 5 Jersey cows who are pasture grazed and provide the hormone and antibiotic free milk that is made into delicious cheeses. There are also sheep, chickens and horses to see. Hope to see you in October!
The Kennebec Cheesery
Jean and Peter Koons
795 Pond Rd.
Sidney, ME 04330
207-547-4171
www.kennebeccheeesery.com
kennebeccheesery@gmail.com
Kennebec cheeses reflect the mix of cheese makers, Kiwi and Yank, bringing pastoral skills and recipes from New Zealand back to the family farm in Sidney, Maine. We handcraft small batches of cheese and yoghurt from Alpine goat and organic Jersey cows' milk. The goats are raised on pasture and GMO-free grain here on Koons Farm and Willie raises his cows on nearby Woodside Farm.
Longfellow's Creamery at Second Chance Farm
Kathy Trodden, Owner/Cheesemaker
PO Box 431
Phillips, ME 04966
207-639-2074 or 207-639-2119
www.longfellowscreamery.com
kht@adelphia.net
Farmstead raw milk gouda, cheddar, and camembert, plus fresh mozz, feta, and yogurts. Come taste some cheese and visit the cows and calves.
Olde Oak Farm
276 Bunker Hill Rd.
Maxfield, ME. 04453
207-732-7719
oldeoakfarm@gmail.com
Olde Oak Farm invites you to be a part of team cheese on Open Creamery Day. Sit down and enjoy brunch made with our own cheeses and all fresh, local ingredients from the farmers' markets we attend. Meet some fellow cheese lovers and tour our farm. We will be giving tours of the cheese making facility, the barn and the fields continuously throughout the day. We'll be offering cheese making demonstrations as well. The goats really love visitors and give it up for the camera. So, come on over and make some memories
Pineland Farms Creamery ***open at 9am***
Mark Whitney, Creamery Manager
92 Creamery Ln., New Gloucester, ME 04260
207-688-6400
207-688-6411
www.PinelandFarms.org
mwhitney@pinelandfarms.org
Tours will be available from 9am-2pm so that you may watch and learn as we craft a batch of our award-winning farm fresh cheese. Sampling opportunities will be plentiful, so mark your calendars and come on down to Pineland Farms for a day of food and festivities
Seal Cove Farm
Barbara Brooks
202 Partridge Cove Rd., Lamoine, ME 04605
207-667-7127
sealcovefarm@midmaine.com
www.mainegoatcheese.com
Fresh and aged goat cheese
Our high producing herd of 125 goats is our foundation. We have been making and selling cheese since 1980. Our commitment to producing the highest quality milk, an element in superior cheeses, continues.
Spring Day Creamery
Sarah Spring
42 Day Road, Durham, ME 04222
207-353-8289
springdaycreamery@me.com
www.springdaycreamery.com
Fresh, mold-ripened, and aged cheeses hand-crafted with milk from local herds. Stop by to taste our award-winning Spring Day Blues.
State of Maine Cheese Co.
Cathe Morrill, Owner
461 Commercial St., Rockport, ME 04556
207-236-8895/800-762-8895
www.cheese-me.com
admin@cheese-me.com
Hand crafted natural and organic cheeses – Cheddars, Monterey Jack (plain & spiced), Caerphilly, Colby and Derby
Sunset Acres Farm
Anne Bossi & Bob Bowen
769 Bagaduce Road
Brooksville, ME 04617
cheesewhiz@wildmoo.net
207 326-4741
Using the milk from our herd of 65 dairy goats, we make many different kinds of fresh and aged cheeses. We also sell raw and pasteurized bottled milk.
Turner Center Creamery
Nezinscot Farm and Farm Store
Gloria Varney
284 Turner Center Road
Turner, ME 04282
207-225-3231
gloria@nezinscotfarm.com
www.nezinscotfarm.com
The creamery will be open from 9 to 5 with demonstrations, tours and sampling throughout the day. Folks are welcome to walk around the farm and view the animals, tour my new barn that houses a wide array of farm animals, enjoy a lunch or breakfast in our café, and visit our fiber and gift shop at the farm store. We are 1 mile north on 117 off of rt 4.
York Hill Farm
John & Penny Duncan
257 York Hill Road
New Sharon Maine 04955
(207) 778-9741
yorkhill@exploremaine.com
Come visit our farmstead Est. 1984 and view the animals, sample our award winning Fresh Chevre Rolls, our aged Capriano or our Ripened Chevre Roll. See where the cheese is made and how the animals spend their days. Bring your kids & bring your camera!
——–
Contact:
Eric Rector, Guild President
erector@tilth.com
(207) 323-2664
Made possible in part by our Sponsoring Partners: Five Island Farm in Georgetown, ME; Treats of Maine, Wiscassett, ME; Turner Farm, North Haven, ME