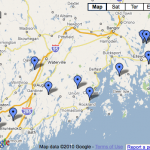 As the hardwood foliage bursts into a blaze of colors on Columbus Day weekend, take in the spectacular sights and come taste some award winning cheese during the Maine Cheese Guild's annual Open Creamery Day. Visit many of Maine's cheese makers in their creameries, meet the animals, and learn the stories behind Maine's more than 150 artisan cheese varieties. Along the way you could also visit a farmers' market, stop at an orchard, explore one of Maine's premier breweries or winemakers, pick fruit at Maine's legendary orchards, and drop-in on one of the many artisan bread makers our state has to offer. You'll love the views, and the taste of Maine cheeses, straight from the source, will be the best memory of all!
A list of participating creameries and links to maps are added below:

View Maine Open Creamery Day in a larger map
Participating Cheesemakers
(All creameries are open Sunday, October 10th from 11am to 3pm unless otherwise noted)
Appleton Creamery
Caitlin Hunter, Owner
780 Gurney Town Road
Appleton, ME 04862
www.appletoncreamery.com
Visit the goats and sample the award-winning cheese at Appleton Creamery in Appleton. Cheese is handcrafted daily using traditional methods from the milk from our herd of Alpine goats and nearby EllsFarm sheep dairy.
Fern Hill Farm
Robert and Amy Jensen, Owners
150 Wiley Road, Naples, ME 04055
207-693-4320
info@fernhillfarm.com
www.fernhillfarm.com
Fresh goat's milk chevre. Plain and with herbs. Cheese is available wholesale and locally at natural and gourmet food shops.
Flying Goat Farm ***Early hours: 8:00am to Noon***
Cara Sammons & Devin Shepard
413 Mann Road
Acton, ME 04001
207-636-7321
207 776 1846
flyinggoatfarmmaine.com
facebook.com/flyinggoatfarm
Flying Goat Farm produces small hand-crafted batches of fresh chevre in several varieties, as well as feta. We are also known to occasionally make goats' milk yogurt, and sweet chevres for special occasions. We strive to manage our small herd of (spoiled) Nubian dairy goats with a primarily natural and holistic approach and it is important to us to know each animal as an individual. Simply put, we believe that tasty cheese comes from happy and healthy animals!
Garden Lore *** Please note hours are 10a.m. – 2p.m. ***
Lore Lipkvich,Owner/Farmer
40 Blueberry Lane, Mariaville, ME 04605
207-537-5673 or 207-537-3365
gardenlore@rivah.net
Garden Lore is located on the banks of Tannery Brook in Mariaville, ME. Here you will see our farm animals which include goats ranging in age from 8 months to 9 years. The farm also has ducks, chickens and anything else we can pick up along the way. Taste the farmstead and artisan cheeses made here from our Nubian and Oberhasli goats. Several flavored chevres, feta and ricotta and now making aged cow and goat cheeses. Herbs used in flavoring cheeses grown right here on the farm. Take a hay ride and pick out your pumpkin in the pumpkin patch. Hope to see you on Sunday!
Harmony Mill Farm *** Please note hours are 12:00pm – 4pm ***
Deb Dik, Distribution
133 Mill Lane, Waltham, ME 04605
207-584-2035
harmill@mymailstation.com
Harmony Mill Farm is a small family farm that sells raw milk and cheeses. We are located on the shores of Graham Lake in Waltham, Me. Jon and I use organic practices to produce our milk and care for our cows. Jon is our cheesemaker and is perfecting our Jersey Gold Raw Milk Cheddar. He also makes a heat treated Ricotta and Ricotta Salata, a salted pressed fresh cheese.
The Kennebec Cheesery
Jean and Peter Koons
795 Pond Rd., Sidney, ME 04330
207-547-4171
www.kennebeccheeesery.com
kennebeccheesery@gmail.com
Kennebec cheeses reflect the mix of cheese makers, Kiwi and Yank, bringing pastoral skills and recipes from New Zealand back to the family farm in Sidney, Maine. We handcraft small batches of cheese and yoghurt from Alpine goat and organic Jersey cows' milk. The goats are raised on pasture and GMO-free grain here on Koons Farm and Willie raises his cows on nearby Woodside Farm.
Longfellow's Creamery at Second Chance Farm
Kathy Trodden, Owner/Cheesemaker
PO Box 431, Phillips, ME 04966
207-639-2074 or 207-639-2119
www.longfellowscreamery.com
kht@adelphia.net
Farmstead raw milk gouda, cheddar, and camembert, plus fresh mozz, feta, and yogurts. Come taste some cheese and visit the cows and calves.
Olde Oak Farm
276 Bunker Hill Rd.
Maxfield, ME. 04453
207-732-7719
oldeoakfarm@gmail.com
Visit our farm at our new location and sample our fresh and aged cheeses. All our cheeses are made with fresh milk from our own Nubian goats and with the delicious, organic milk from the Jersey cows at our partner farm, Clovercrest. We are two family farms working together with a passion and dedication to our animals and the milk they provide. Meet the cheesemakers and the goats (the true artisans) of Olde Oak Farm.
Painted Pepper Farm ***open Saturday, Oct. 9th only, 11am – 3pm***
Lisa Reilich
55 Goods Point Road, PO Box 203
Steuben, ME 04680
207 546-9777
ppfarm@downeast.net
www.paintedpepperfarm.com
Painted Pepper Farm, a saltwater family farm nestled in a downeast coastal woodland, produces a delicious goat's milk yogurt year-round exclusively from our organically managed herd of Nigerian dairy goats. Other dairy delights — fudge, ice cream & chevre — are available seasonally.
Pineland Farms Creamery ***open at 9am***
Mark Whitney, Creamery Manager
92 Creamery Ln., New Gloucester, ME 04260
207-688-6400
207-688-6411
www.PinelandFarms.org
mwhitney@pinelandfarms.org
Tours will be available from 9am-2pm so that you may watch and learn as we craft a batch of our award-winning farm fresh cheese. Sampling opportunities will be plentiful, so mark your calendars and come on down to Pineland Farms for a day of food and festivities
Seal Cove Farm
Barbara Brooks
202 Partridge Cove Rd., Lamoine, ME 04605
207-667-7127
sealcovefarm@midmaine.com
www.mainegoatcheese.com
Fresh and aged goat cheese
Our high producing herd of 125 goats is our foundation. We have been making and selling cheese since 1980. Our commitment to producing the highest quality milk, an element in superior cheeses, continues.
Spring Day Creamery
Sarah Spring, Owner
42 Day Road, Durham, ME 04222
207-353-8289
springdaycreamery@me.com
Fresh, mold-ripened, and aged cheeses from locally-produced goat and cow's milk; hand-crafted in a galley-sized cheese room.
State of Maine Cheese Co.
Cathe Morrill, Owner
461 Commercial St., Rockport, ME 04556
207-236-8895/800-762-8895
www.cheese-me.com
admin@cheese-me.com
Hand crafted natural and organic cheeses – Cheddars, Monterey Jack (plain & spiced), Caerphilly, Colby and Derby
Sunset Acres Farm
Anne Bossi & Bob Bowen
769 Bagaduce Road, Brooksville, ME 04617
cheesewhiz41@gmail.com
207 326-4741
Using the milk from our herd of 110 dairy goats, we make many different kinds of fresh and aged cheeses. We also sell raw and pasteurized bottled milk.
Townhouse Farm
Beth Whitman
35 Townhouse Rd
Whitefield, ME 04353
207-549-5670
ewegurt@gmail.com
Townhouse Farm specializes in Middle Eastern style cheese and yogurt. We offer the following products: "Ewegurt" (sheep milk yogurt) – the ORIGINAL Greek Style yogurt; Feta (goat milk); Halloumi (Cypriot frying cheese from cow milk); Morgandie (a mild aged cheese from cow milk); Chevre – plain, herb, garlic, zanzibar; and cultured butter.