Category Archives:
Member News
News items posted by or about Maine Cheese Guild members and membership.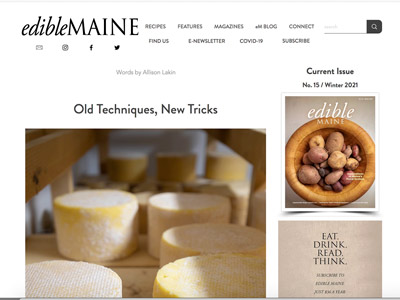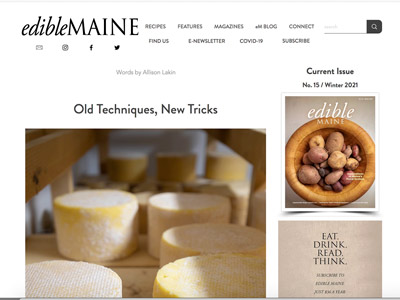 Guild member Allison Lakin of Lakin's Gorges Cheese is featured in the winter 2021 issue of ediblemaine.com.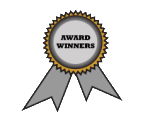 One of our longtime members — Kennebec Cheesery in Sidney — has been honored with a Yankee Magazine Editor's Choice Food Award for 2017!
Their Chèvre Rolled in Herbs de Provence won top honors for Maine alongside one of Stonewall Kitchen's sauces. According to Yankee Magazine:
Honorees are chosen for making exceptional products that meet the Yankee standard of quality. As with previous years, the honor should be considered "an award of excellence rather than a single, best-in-category competition-style approach…"
Congratulations to chesse maker Jean Koons and everyone at the Cheesery on this achievement!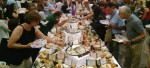 At our February 2016 the Guild committed to offering at least three ACS Conference Grants for Guild members to attend this year's American Cheese Society conference in
Des Moines, Iowa July 27th through the 30th.
The grants would pay for the Early Bird conference fee of around $500, which would be roughly a third of total expenses for attending (you would be responsible for your ACS Membership, travel and lodging expenses). Grant recipients are then required to write and publish at least one detailed review of a workshop or educational experience they participated in at the conference to share with the rest of the Guild.
If you can commit to attending the ACS Conference this summer and would like to apply for a guild Grant to do so, please write
—one paragraph describing you and your cheese experience,
—and one paragraph describing what you seek to gain by attending the ACS conference;
—your name and contact info;
—send to info@mainecheeseguild.org with the subject "Guild Grant Request" BEFORE our April 11th meeting.
At that meeting the group will discuss the number of folks seeking a grant, and given our current finances how many grants the Guild can afford to offer. If there are more grant seekers than grants available, the Guild board will review the applications and choose whom will receive Grants before Early Bird registration starts on May 4th.
In the past the Guild has offered to pay the entry fee for any Guild member's first ACS competition entry, and the Guild has also assembled a group shipment of all Guild entries into the competition. These items will be discussed and budgeted at the April meeting, and the decisions will be announced to the full Guild right after that.