Save this date: Sunday, September 12, 2021 – Maine Cheese Festival & Awards
Details will be available as we prepare for this year's edition of our annual Guild event.
---
---
2020 – The Board of the Maine Cheese Guild came to the difficult decision to cancel our Annual Maine Cheese Festival for 2020 at Savage Oakes Winery in Union. The safety and well being of our community and customers is our highest priority. Read a letter from the Guild Board of Directors here regarding this cancellation.


---
---
---
Here's a look back at our 2019 Festival at Manson Park in Pittsfield, Maine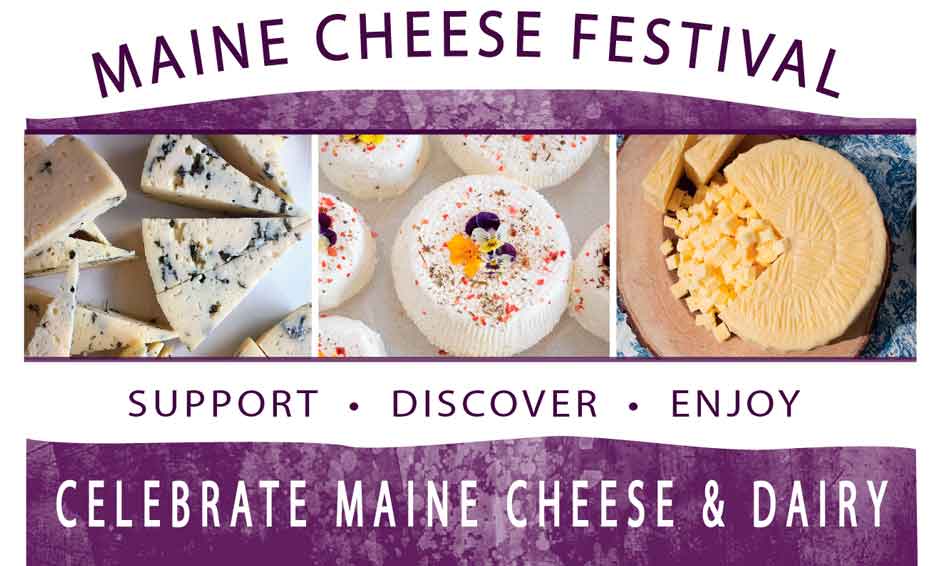 This was our 4th Annual Maine Cheese Festival – Sunday, September 8, 2019 along the Sebasticook River at Manson Park in Pittsfield, Maine, 11 am – 5 pm rain or shine.
VENDORS LIST: here.
Maine's biggest gathering and celebration of cheese. Taste and learn about Maine cheese, plus artisan and fermented foods and beverages.
About this Event
Maine Cheese Guild cheesemakers plus Maine brewers, wineries and cideries, Maine food trucks and Maine artisan foods and beverages to explore and sample. The festival is a major fundraising effort for the Maine Cheese Guild, a non-profit trade organization that works year-round to educate Maine cheesemakers and elevate the quality of Maine cheese and dairy.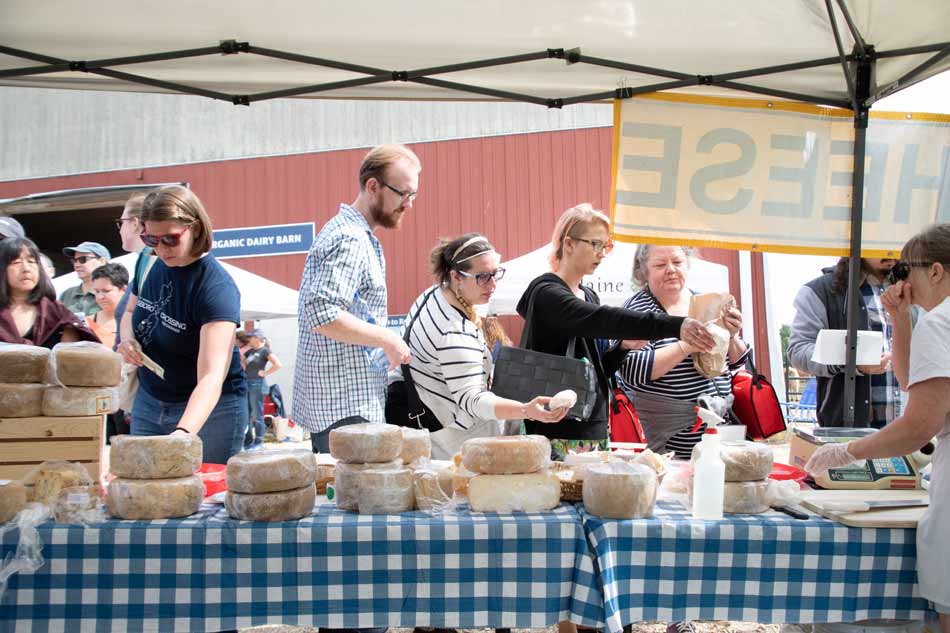 Beer Garden tickets: $15 for 12 tastings available at the Festival. Bring your ID if you want to enter the Maine Beer Garden at the Festival. This year, our Beer Garden is generously sponsored by Allagash Brewing Co.
Allagash, along with a dozen other Maine breweries, wineries, and cideries, will be pouring samples throughout the day and many will be paired with a bite of cheese from our Maine Cheese Guild cheesemakers! You will need a valid photo I.D. to enter the Beer Garden as the drinking age in Maine is 21. Tasting tickets will be available for purchase on site.
Music: We'll have live music throughout the day including Married with Chitlins and Rough Sawn! Plus we'll have demos on cheesemaking, cheese pairing, fermentation and home-brewing in our Workshops Tent.
New this year: You want more cheese, you got it! Everyone who attends the Maine Cheese Festival will receive a ticket at the entrance gate for a complimentary cheese plate! Our Sponsor, Bangor Wine and Cheese is jumping in to help us run the Cheese Bar where you can redeem your ticket for your cheese plate and mingle with some cheese fairies!
Of course we couldn't do this without you, our dedicated cheese lovers and our amazing sponsors:
Thank you so much to: Bangor Savings Bank, Are you Ready to Party??, Allagash Brewing Company and Bangor Wine and Cheese!

2019 Festival Vendors
Cheesemakers
Abraham's Creamery
Appleton Creamery
Balfour Farm
Copper Tail Farm
Crooked Face Creamery
Dreamin' Fahm
Fuzzy Udder Creamery
Garden Side Dairy
Hahn's End Creamery
Kennebec Cheesery
Maine Water Buffalo Farm
Pineland Farms Dairy
Pumpkin Vine Family Farm
Silvery Moon Creamery
Spring Day Creamery
Springdale Farm
Stone Fox Creamery
Sunset Acres
Swallowtail Farm and Creamery
York Hill Farm
Beer/Wine/Spirits
Allagash Brewing Co.
Bigelow Brewing Co.
Mason's Brewing Co.
Oak Pond Brewery
Odd Alewives Farm Brewery
Rocky Ground Cider
Savage Oakes Winery
Tree Spirits Winery & Distillery
Turning Page Farm Brewery
Food Trucks
These Maine food trucks will be on site and ready to serve you, so bring your appetite:
Melt
Kings' Concessions
The Ravioli-Mobile
Stone Fox Farm Ice Cream
The Yum Bus
 Maine Food Products
Fat Back
Hootenanny Bread
Pemaquid Lobster & Seafood
30 Acre Farm
Mill Cove Crackers
Turtle Rock Farm
Brazen Baking
Gryffon Ridge Spice Co.
Pete Egan's Travelling Oyster Bar
Farmhouse Coffee Roasters
Pemaquid Lobster & Seafood
Get Sticky Popsicles
Tempest in a Teapot
Demos
1. Cottage Cheese and Bondon Making with University of Maine Cooperative Extension. (We'll be giving away some goods from New England Cheesemaking Supply Co!)
2. Ask a Cheesemaker Panel Discussion & Q and A.
3. Building a Better Cheese Plate with Libby from the Cheese Iron
4. Taste the Milk, Taste the Cheese! A variety of milks and a variety of cheeses to try!

Our Festival sponsors:
Allagash Brewing Co.
Bangor Savings Bank
Are You Ready to Party??
Bangor Wine and Cheese
New England Cheesemaking
The Advertising Specialsts of Maine
Culture
Our Festival supporting partners:
Dairy Connection
Five Islands Farm
Fryeburg Fair
Rayr, the Wine Shop
Rising Tide Co-op
The Cheese Iron
The Maine Dairy Promotion Board
Tree Spirits Winery and Distillery
Whole Foods Portland
The Town of Pittsfield
Your attendance at the Festival helps support the work of the of the Maine Cheese Guild's mission—to support and encourage the Maine cheesemaking community. We will do this through development of a collective voice to promote Maine cheese and cheesemakers, educate cheese makers and consumers, coordinate resources and share the joy and art of regional cheeses.