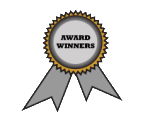 One of our longtime members — Kennebec Cheesery in Sidney — has been honored with a Yankee Magazine Editor's Choice Food Award for 2017!
Their Chèvre Rolled in Herbs de Provence won top honors for Maine alongside one of Stonewall Kitchen's sauces. According to Yankee Magazine:
Honorees are chosen for making exceptional products that meet the Yankee standard of quality. As with previous years, the honor should be considered "an award of excellence rather than a single, best-in-category competition-style approach…"
Congratulations to chesse maker Jean Koons and everyone at the Cheesery on this achievement!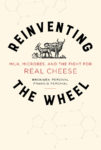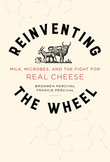 The Guardian has just published an article outlining one of many compelling stories chartered in Bronwen and Francis Percival's new book on the cheese industry called Reinventing The Wheel. The authors are currently on tour promoting the book at various book AND cheese stores across America.
I have read the book and would highly recommend it to anyone who cares about the future of Good Cheese in an era of increasing focus on food safety. Two Maine farms are featured in it! The Percivals present a compelling case that the two ideas are compatible IF we're all willing to abandon myths and ideologies.