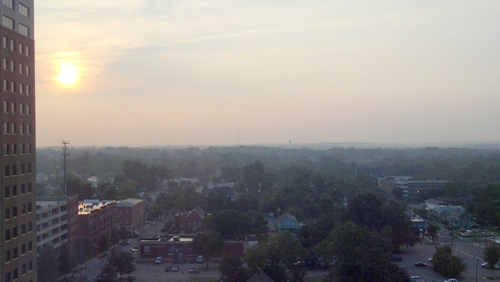 There is so much to pack into each ACS conference (or maybe because many of the attendees work with dairy animals) things start early; with breakfast at 7:30am, Kevin and I woke at 6:00am with the sun clearing the horizon and the Progress Energy building across from the Marriott; the moisture in the air is visible this early, though the locals say that we've been very lucky. The temps have *only* been in the 90s the last few days, and that trend is forecast to continue — a serious cool down for August.
After breakfast (largely of Vermont cheese for me, though muffins and bagels were also available) Temple Grandin kicked off the conference this morning. She had a lot to say about animal welfare, organic versus conventional agriculture, BIG ag versus small ag, Europe vs. US ag, and the shocking lack of basic biology knowledge in the general public. Her speech was inspiring, especially in how she was able to convince huge corporations to care about the animals the processed– she claimed that right now more than 50% of the animals slaughtered in the US are processed using equipment she designed. The speech was also reassuring because I know many farmers who are using similar measures to what she described as necessary so that any animal has "a life worth living" even if they are grown to become meat.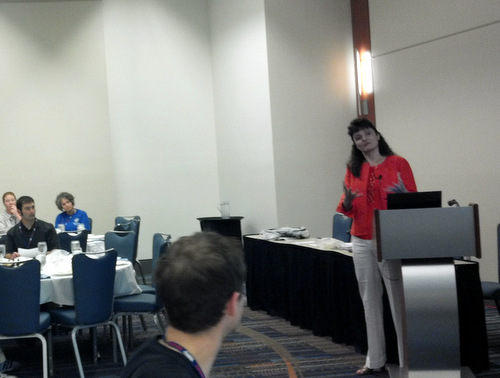 My first session was somewhat in doubt because the ACS changed the way they doled out their limited seating sessions, which I totally missed, so was without a ticket to the Sensory and Technical evaluation session given by the co-chair of this year's conference, Dr. Mary Ann Drake, a professor at the Southeast Dairy Research Center at NC State University. She had given a session on evaluation of different butters at the Chicago conference which was fascinating as well as helpful for a cheese maker attempting to evaluate his own cheese. So I got to the conference room and submitted my name as first on the waiting list. Thankfully not two minutes later a gentleman walked up to the ACS volunteer to ask where could he hand back his ticket to the session since he couldn't attend it? I said, "I'll take it!" and I was in.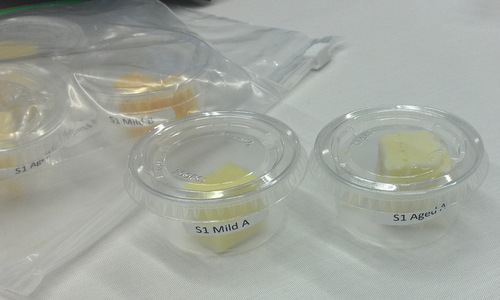 The reason for the limit is because we were all given a very carefully prepared set of cheese evaluation samples that we would taste together using some of Dr. Drake's methods. They were all cheddars and they demonstrated different flavors in the same cheese over time (young cheddar vs. more mature cheddar) as well as some of the diverse and sometimes strange ("catty" flavor?) elements that can be found in a full sensory analysis.
The little covered plastic containers are an important method of capturing and concentrating the aromas, the temperature is supposed to be 72 degrees, and you are supposed to refrain from smoking or drinking coffee (as well as any other strong food) for at least 30 minutes before a true tasting evaluation where data will be recorded. And sure enough, we all experienced a wide gamut of aromas and flavors including brothy, umami, pot roasty, grassy, phenolic (harsh burning), caramel, brown sugar, fruity, and pineapple.
Before the tasting, however, she described several of the projects that she has worked on which included a study comparing cheddar flavor profiles from different regions in the US, flavor profiles of cheddars from the US and around the world, as well as pasteurized vs. raw milk versions of the same cheese made from the same herd and same milking (half the milking was pasteurized and have made right into cheese). And all of the findings were compelling.
Lunch was served back in the ball room, this time with a plate of cheeses from Oregon cheese makers (the Rogue Blue was all gone by the time I sat down — darn it!). This also doubled as a "business meeting" as the board walked through the work of ACS over the past year including a financial report. But much of it was dedicated to a very moving tribute to Daphne Zepos who was given a lifetime achievement award only three months before she passed away this summer.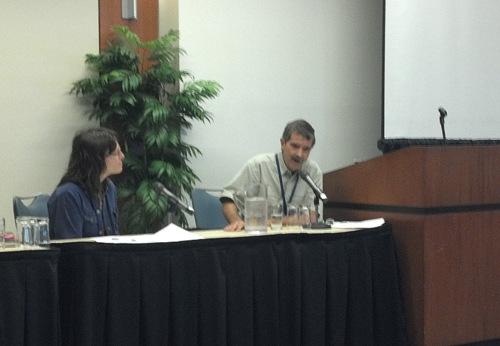 In my last session of the day Dr. Paul Kindstedt presented a slice of his new book, Culture and Cheese: A History of Cheese and its Place in Western Civilization. storming through 11,500 years of history in 20 minutes to point out how climate changes forced humans to consider cheese as a substantial source of nutrition, as well as allowed humans to populate farther and farther north. At the end of this time sweep Kindstedt pointed out that most well known varieties of cheese were developed by groups of cheesemakers in one place who collaborated among each other to perfect a specific style with similar environment, natural cultures, animals, and equipment. Today, he pointed out, place ('terroir' in the old sense) is important in that it attracts cheesemakers to come there and make cheese of any style.
However, in the recent success of cheesemakers using traditional methods that have revived an appreciation of variety, Kindstedt sees a danger. As some cheese makers grow and maintain their quality as they fill more and more of the market with their cheese, they could squeeze out the smaller cheese makers and consequently reduces that valuable diversity. Likewise Kindstedt introduced the attendees to a new organization he feels passionately about: the World-wide Traditional Cheeses Assocation (WWTCA), founded by Italian cheese scientist Dr. Montserrat Almena-Aliste who has presented at ACS in past years. His session in 2011 was an incredibly illuminating attempt to scientifically define traditional cheese techniques and qualities. His stated intention has been to document every process step, as well as to scientifically understand their significance to protect these traditional foods from future regulations that might threaten what the regulators don't understand. Kindstedt encouraged all lovers of cheese to support the WWTCA to make sure that cheese diversity remains strong around the world.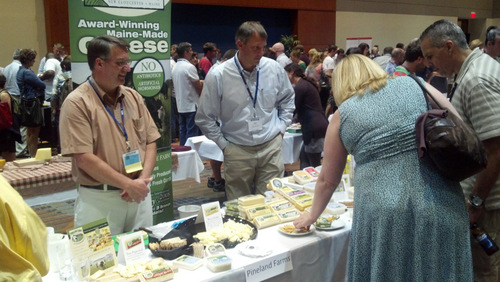 After the sessions ACS held their "Meet the Cheesemakers" event which gives non-cheese making attendees the opportunity to meet many of the cheese making attendees and try their products. Pineland Farms Creamery was the lone Maine participant, but Kevin and Neal put on a good show.
And then it was time relax. ACS organized an opening reception that took place in front of the Raleigh Convention Center which included North Carolina style pulled pork, potato salad, and pudding. Also a live band. See if you can spot the Guildsters in the video.